Keeping Teens Safe Behind the Wheel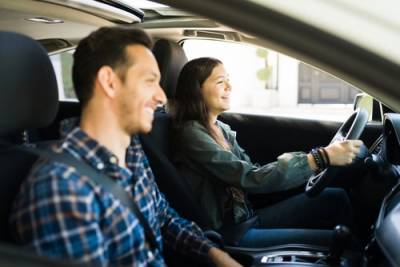 According to the National Safety Council, approximately half of all teenagers will experience an car accident before they graduate high school. Many of them will walk away from their accidents with little more than a few bumps and bruises. Others will suffer severe injuries and may even be killed. Thankfully, parents can minimize their child's risk by staying actively involved. It is important to take steps to keep your teen safe while on the road.
Continue Riding with Your Teen
Statistics indicate that teens who continue driving with their parents in the car are less likely to experience a crash than those who have little to no driving time with an adult after obtaining their license. There may be several reasons for this, such as a lower likelihood of engaging in risky behavior when a parent is present and more practice time with an experienced adult. Whatever the reason, the reduced risk makes spending time in the car together well worth the effort. As an added bonus, extra time with your teenager can strengthen your relationship as well.
Enforce Rules for Teens Driving on Their Own
Parents should also enforce strict driving rules for teens, and they should have clear consequences if the teen directly violates those rules. The National Highway Traffic Safety Administration specifically suggests that parents expressly talk to their teen drivers about the dangers of speeding, alcohol use, cell phones while driving, extra passengers, and a strict adherence to seatbelts. If you decide to place limitations, the consequences are completely up to you, of course, but you should be sure that they highly discourage risky behavior behind the wheel.
Model the Desired Behaviors for Your Teen
When it comes to safe driving, parents should avoid the "do as I say, not as I do" concept. Instead, model the behavior you want to see in your teens, especially when they are in the car with you. Do not use your phone while driving, even at stoplights. Avoid speeding, always wear your seatbelt, and never drive after drinking. Further, you might consider pointing out situations that are problematic while driving with your teen. Have them do some critical thinking when the two of you see a car full of teenagers and ask them why they think it might be dangerous. You might not want to harp on it too often, but the act of thinking critically can encourage your teen to think carefully about the decisions they make while driving.
Know What to Do If an Accident Does Happen
Part of the reason that teens are so prone to accidents is that they are less experienced than adults are. They may be less able to maneuver out of dangerous situations, or they may overcompensate as they tend to lack the same defensive driving skills that adults have. Though this does not inherently make them at fault when an accident occurs, insurance companies may try to use this lack of experience against them to minimize any compensation you or your teen may be owed. Protect them with help from a seasoned personal injury lawyer.
Contact a Denton County Car Accident Injury Lawyer
At Marsala Law Group, we know that your teen driver could do everything right and still end up being involved in an accident. Even worse, they could be injured by the careless actions of another driver. If your teen driver has been injured in any type of car crash, contact one of our experienced Denton personal injury lawyers to get the guidance you need. Call 940-382-1976 for a free consultation and case evaluation today. We will work hard to protect your child's best interests and to secure maximum compensation for their injuries.
Sources:
https://www.nsc.org/road-safety/safety-topics/teen-driving
https://www.nhtsa.gov/road-safety/teen-driving